Self-Reinforced Polymer Nanofiber Aerogels for Multifunctional Applications
Abstract: Nanofibrous aerogels with ultra-high porosity and surface area exhibit great potential for widespread applicability and therefore attract extensive attentions. Herein, a self-reinforcing strategy to design nanofibrous aerogels is proposed using the thermoplastic polymer nanofibers as building blocks and a simple thermal welding as the crosslinking method. The macroscopic freestanding thermoplastic poly(vinyl alcohol-co-ethylene) nanofibers aerogel is mass manufactured via industrial sea-island spinning and ice template method. After further welding the nanofibers using a facile and controlled heat treatment, the mechanically robust aerogels are favorably fabricated with higher restorability under compression, folding, and torsion and better stability in solvent relative to the unwelded aerogels. It is interesting that the wettability of the nanofibrous aerogels changes from hydrophilic to hydrophobic after thermal welding and excellent stability in water. The resulting nanofibrous aerogels exhibit effective absorption performance for oils and organic solvents, excellent thermal insulation, and efficient acoustic absorption. The results reveal that the development of self-reinforced polymer nanofiber aerogels may provide the options to the design of multifunctional aerogels due to the industrial fabrication of thermoplastic polymer nanofibers and chemical-free post-treatment.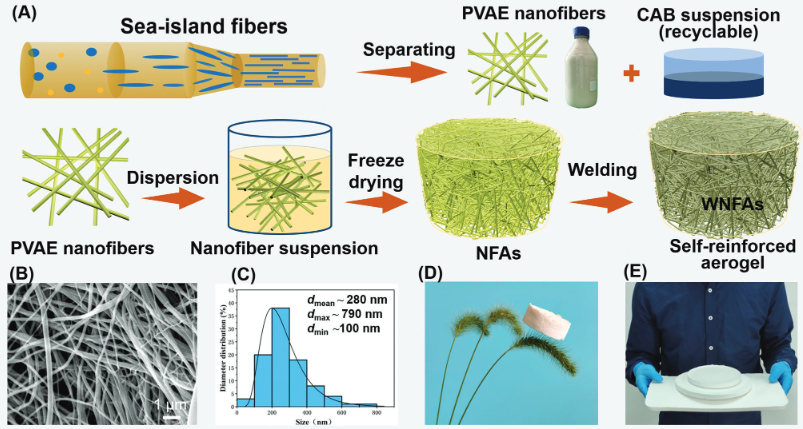 You H, Zhao Q, Mei T, et al. Self‐reinforced Polymer Nanofiber Aerogels for Multifunctional Applications[J]. Macromolecular Materials and Engineering, 2100971.