Facile fabrication of thermoplastic polymer nanoparticles by combining sea-island spinning and Rayleigh instability
Abstract: Sea-island spinning has been widely used to prepare ultrafine fibers with diameters ranging from nanometers to micrometers in textile industry. However, the use of industrialized sea-island fibers as a precursor to fabricate polymeric nanoparticles has not been reported. Herein, the thermoplastic poly(vinyl alcohol-co-ethylene) (PVA-co-PE) nanofibers with ~240 nm were mass produced in an industrial production line, and the effect of thermal annealing on,the morphological evolution was investigated. Rayleigh instability driven morphological transition from nanofibers to spherical particles in ethylene glycol,system, demonstrating that the regular nanospheres could be fabricated by,controlling annealing temperature and time. The PVA-co-PE nanoparticles,with an average diameter of ~680 nm was obtained after annealing at 100C for 30 min. As a result, the PVA-co-PE nanoparticles can be mass-produced with 25 kg/day yield in our production line. This study opens a new avenue of research toward the large-scalable manufacture of polymeric micro/nano particles by combing industrialized sea-island spinning technology and Rayleigh instability-induced morphology evolution.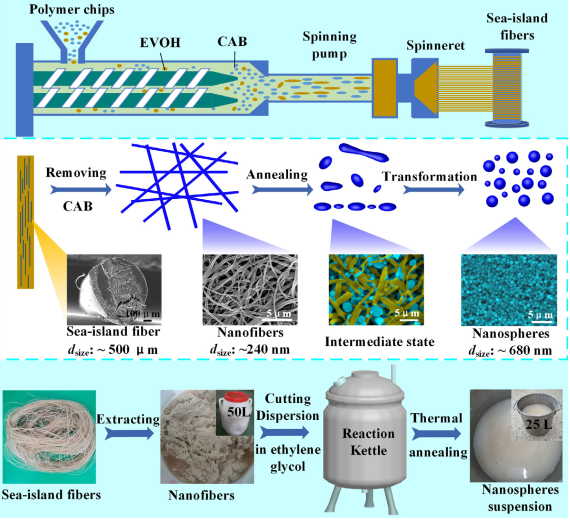 Haining You, et al. Facile fabrication of thermoplastic polymer nanoparticles by combining seaisland spinning and Rayleigh instability[J]. Journal of Applied Polymer Science, e52728.