Intelligent polyester metafabric for scalable personal hydrothermal self-adaptive adjustment
Abstract: The world needs to consume a huge amount of energy every year, in order to make the human body feel hydrothermal comfort. Applying the concept of hydrothermal-adaptive adjustment to microclimate management in textiles can greatly reduce energy consumption. However, it is difficult to achieve dynamic hydrothermal control of textiles without external electronics. In this study, we have successfully prepared a metafabric with bicomponent asymmetric structured polyester fibers as the structural unit, and exploited the differential responses of the two components to heat and humidity to intelligently control the pore size of the metafabric, achieving non-electric intelligent regulation of the hydrothermal microclimate. Compared with traditional polyester fabrics, this metafabric can achieve an additional 6.1◦C and about 55% moisture permeability adjustment under the condition of temperature and humidity switching. This scalable and low-cost technology provides great potential for solving the comfort of individuals working in harsh environments, such as medical workers, athletes, and astronauts.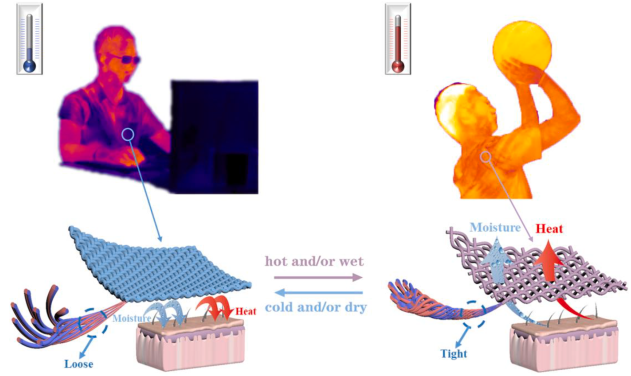 Chen J, Jia K, Zhao Q, et al. Intelligent Polyester Metafabric for Scalable Personal Hydrothermal Self-adaptive Adjustment[J]. Chemical Engineering Journal, 2022: 138875.