Near-IR-Regulated Composite Hydrogel with Real-Time InfectionMonitoring and a Combined Antibacterial Effect for Efffcient WoundManagement
Abstract: Chronic wounds induced by bacterial infection have seriouslyaffected the health of people in the world. So, it is meaningful to develop anovel strategy with real-time infection monitoring and excellent antibacterialperformance for enhancing wound management. Herein, we constructed acomposite hydrogel by loading the pH indicator bromothymol blue (BTB)and gold nanocages containing 2,2′-azobis[2-(2-imidazolin-2-yl)propane]dihydrochloride (Au NCs@AIPH) into a polyacrylamide-co-poly(acrylicanhydride-modiffed oxidized sodium alginate) (PAM-co-PAOSA) hydrogel. In vitro and in vivo experimental results demonstrated that the compositehydrogel could effectively detect bacteria and diagnose the infection status ofa wound in real time by showing visible color changes. In addition, thecomposite hydrogel containing Au NCs@AIPH possessed an excellentphotothermal effect under nearIR (NIR) laser irradiation. The photothermaleffectfurther activated AIPH to generate toxic free radicals to form combined antibacterial therapy for accelerating wound healing.Moreover, the composite hydrogel showed great biocompatibility. Therefore, the multifunctional hydrogel provided a novel woundmanagement strategy for bacterial infection diagnosis and combined therapy in an infected wound.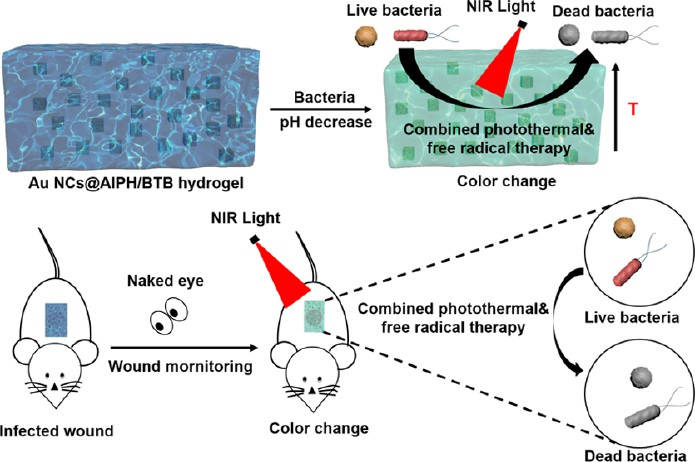 Chen Y, Hao X, Lu Z, et al. Near-IR-Regulated Composite Hydrogel with Real-Time Infection Monitoring and a Combined Antibacterial Effect for Efficient Wound Management[J]. ACS Applied Materials & Interfaces, 2023, 15(34): 40255-40266.